Montana State University provides a wide range of Student Services to assist all students achieve the best education possible. These services also include resources for veterans, students with disabilities, and students returning to school. Services can range from academic to financial, testing to printing, careers to wellness, and much more.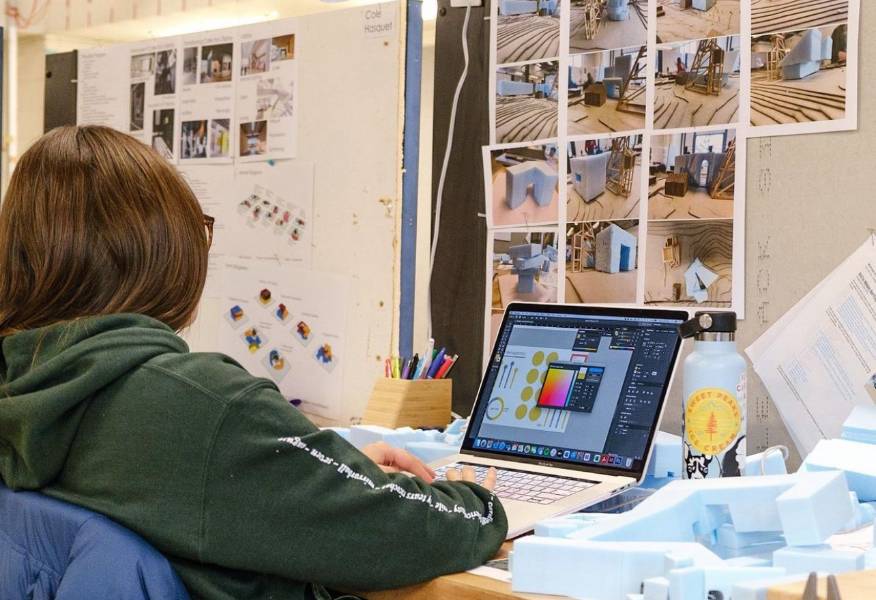 Career Development Resources
Architectural Careers
Architecture Career Guides provides resources that will lead you through the steps in becoming an architect--including selecting the best architectural program for you, being successful in your architectural education, pursuing your career in architecture and other fields.
Career, Internship & Student Employment Services
The Allen Yarnell Center for Student Success supports students through personalized advising, tutoring, and coaching. Career, Internship and Student Employment Services are available to all MSU students. These resources include resume tips, job search strategies, interview preparation, and job postings.
Academic Resources
School of Architecture Advising
Students in Environmental Design and Architecture can schedule an advising appointment with a School of Architecture advisor to discuss curriculum, registration, and graduation topics.
Office of Student Success
The Office of Student Success provides students with individualized, comprehensive tools and resources necessary for personal growth and the attainment of academic success through integrated education, engagement, and advisement.
Tutoring
Tutoring services for a wide range of classes can be scheduled through the SmartyCats Tutoring program.
Writing Center
The MSU Writing Center supports students across MSU as they develop the written communication skills necessary in their academic, professional, and civic lives. Undergraduate and graduate peer tutors provide one-on-one tutoring, resources for writing, writing group facilitation, and workshop facilitation that complement and support students' classroom instruction.
Math and Stat Center
The Math and Stat Center provides a qualified tutoring staff to help students develop their current understanding of respective math and statistic course content by asking questions and guiding students through the learning process. The center helps students obtain the necessary study skills in order to communicate course material effectively and take responsibility for their own learning.
Technology Resources
Notebook Computer Requirement
Students in the School of Architecture are required to have a notebook computer beginning in the Spring Semester of their Second Year in the Environmental Design program. Download the Second-year notebook computer specifications.
Students in the First Year of the Environmental Design program have access to MSU's student computer labs. For students choosing to have a notebook computer in their first year, please review the above Second-year computer specifications before making a purchase.
Adobe Creative Cloud
Students at MSU have access to the Adobe Creative Cloud Pro Edition, providing free access for students to Adobe software such as Photoshop, Illustrator, InDesign, Acrobat to name just a few. Download Adobe Creative Cloud.
Microsoft 365
MSU provides students with Microsoft Office 365, which includes the applications Outlook, Word, and Excel. Download Office 365.
OneDrive Storage
MSU students have access to OneDrive cloud file storage services. Login to OneDrive.
Lecture Capture - Panopto
MSU provides Panopto, a lecture capture system, for students to create videos. Getting started with Panopto
Architecture Software
Students have access to 3D Rhinoceros modeling software through the School of Architecture's network licenses. Students can download a student version of Revit from Autodesk's Student Community website.
Student Organizations
American Institute of Architecture Students (AIAS)
The American Institute of Architecture Students (AIAS) is an independent, nonprofit, student-run organization dedicated to providing unmatched progressive programs, information, and resources on issues critical to architecture and the experience of education. The AIAS aims to promote excellence in architectural education, training, and practice; to foster an appreciation of architecture and related disciplines; to enrich communities in a spirit of collaboration; and to organize students and combine their efforts to advance the art and science of architecture.
Tau Sigma Delta
Tau Sigma Delta was established to provide a national collegiate honor society open to students of all American colleges and universities wherein an accredited program of Architecture, Landscape Architecture or Allied Arts is established. Its prime objective is to celebrate excellence in scholarship, to stimulate mental achievement, and to award those students who attain high scholastic standing in Architecture, Landscape Architecture, and Allied Arts of Design by the rewards of membership in an honor society.
Tau Sigma Delta is the only honor society nationally recognized in the field of architecture, landscape architecture and the allied arts. The Society is a member of the Association of College Honor Societies. This is a distinct honor and gives Tau Sigma Delta the same high rating enjoyed by the most distinguished honor societies of other educational fields.
In 1988, the Beta Theta Chapter of Tau Sigma Delta was established at Montana State University to honor excellence within this School of Architecture.
Financial Resources
Financial Aid
Montana State University provides valuable Financial Information on scholarships, the cost of attending MSU, and additional financial guidance. The Office of Financial Aid provides students with information and application materials for obtaining a wide-range of financial assistance.
Read here for additional financial guidance information on how to pay for school.
Scholarships
First-Year Students
The School of Architecture has one dedicated scholarship, the Dean Harold C. Rose scholarship, for first year Environmental Design students who are continuing on to the second year of the program. Faculty select the recipient of this scholarship at the end of spring semester in the first year of the undergraduate program. Faculty will base their scholarship selection by conducting a faculty vote on the best ARCH 152 projects. This process determines the winner of the Dean Harold C. Rose Scholarship .
First-year Environmental Design students do not need to apply for this scholarship as it is faculty selected.
All Environmental Design and Architecture Students
For students in the second through fourth year of the undergraduate program and for graduate students, there are a number of School of Architecture scholarships available. The School of Architecture awards approximately $80,000 in scholarship money each year to students. Information and application for these scholarships will be made available to students every year on the first class day of each spring semester.
Students submit a general scholarship application and the School of Architecture Scholarship Committee works through the data submitted to match students to specific scholarships based upon scholarship criteria. The Scholarship Application submitted in the spring is for money for the following academic year. For example, if a student is in the second year of our program and submits the scholarship application in spring semester, the money is available for use in the subsequent academic year.
There are 39 separate scholarships for which a student is eligible. Many scholarships will have different selection criteria such as Montana resident or non-resident, financial need, academic record, AIAS membership, leadership abilities, etc. The School provides this information to the School of Architecture Scholarship Committee for their use in determining scholarship recipients.
MSU Cat $cholarships
All current students at MSU can apply for all eligible scholarships using MSU Cat $cholarship.
Additional Scholarship Opportunities
Occasionally, outside groups will contact MSU with information about specific scholarships. These scholarship announcements will be sent to students through the D2L advising course shell. These scholarships are not administered by MSU.
Graduate Teaching Assistant Positions
Architecture graduate students can apply for graduate teaching assistant (GTA) positions. These positions are filled each fall and spring semester and provide students with the opportunity to become teaching assistants for a wide range of the undergraduate Environmental Design courses offered--including design studios, graphics, history, building construction, structures, building construction and professional practice. GTAs receive a monthly stipend and graduate credit waivers for each semester they serve as GTAs. Graduate students apply for these positions at the time of their initial admission to the Master of Architecture program and prior to each subsequent semester. The Director of Student Services provides the application information to the students during their registration advising session each semester.
Internship Resources
Architecture Residency Design Studio
The Architecture Residency Design Studio--a fourth-year Directed Design Experience studio course, ARCH 498--offers students an opportunity to broaden their educational experience by participating in a professional office environment. The studio provides an opportunity for exploring the world of architectural practice through professional and reflective activities that address broader educational goals and objectives beyond the academy. Students undertake a 6-month paid internship under the supervision of a licensed architect. During this internship students are engaged in both academic and practice activities that involve work in a professional setting, documenting the activities performed, as well as reflecting on the overall experience.
The Director of Student Services will provide information on the Architecture Residency Design Studio prior to students' registration for fourth year courses. Students can also contact the School of Architecture advising staff for more information on this residency studio course.
Internship Opportunities
Hire-a-Bobcat is a free online recruiting platform for students and employers. This service allows students to view and apply for internships and job postings from architectural firms and allied disciplines throughout the United States and abroad.
Firms interested in hiring students as interns will often post job opportunity fliers on the bulletin board in Cheever Hall located by the northwest stair.
When digital fliers announcing job opportunities are sent to the School of Architecture office, these fliers are forwarded to students.
Other Opportunities
The Allen Yarnell Center For Student Success supports students with services dedicated to student careers, internships, and the employment of students in jobs and careers during their studies and after. Visit Career Services in SUB Room 177.
Search "Architectural Services" on Craigslist for the location you wish to work. Many firms post internship and full-time announcements to Craigslist rather than list their openings in a local newspaper.
Chegg Internships is a career portal and job posting site where employers can post internship opportunities and entry-level job openings to connect with students and graduates from around the country.

The goal of

Archinect is to make architecture more connected and open-minded, and bring together designers from around the world. View their job board.
Professional Resources
National Council of Architectural Registration Boards (NCARB)
The National Council of Architecture Registration Boards (NCARB) oversees the licensing and registration of Architects. This organization administers the Architecture Experience Program (AXP) as well as the Architect Registration Exam (ARE).
American Institute of Architects (AIA)
The American Institute of Architects (AIA) is the national professional association of architects. AIA serves as the voice of the architecture profession. AIA advocates for the value of architecture and provides architects with the resources they need to do their best work.
National Architectural Accrediting Board (NAAB)
The National Architectural Accrediting Board (NAAB) accredits professional degrees in architecture offered by institutions accredited by a U.S. regional accrediting agency. All 55 U.S. registration boards accept the NAAB-accredited degree for registration; 38 of those boards require it.
Association of Collegiate Schools of Architecture (ACSA)
The Association of Collegiate Schools of Architecture (ACSA) is a 501(c)(3) nonprofit, membership association founded in 1912 to advance the quality of architectural education. ACSA, unique in its representative role for schools of architecture, provides a forum for ideas on the leading edge of architectural thought. Issues that will affect the architectural profession in the future are being examined today in ACSA members schools.